It's official: my skinny jeans "moment" has officially passed.
I'm so relieved.
I was late to the trend anyway (finally giving in at the urging of my fashion consultant daughter), and never really got into it. I mean, seriously – are they jeans? Are they leggings?  And could they BE more uncomfortable? Too low cut. No circulation below the knees. Can't tuck a shirt in.
So while I still wear them occasionally, I have moved on.
Meet my new love: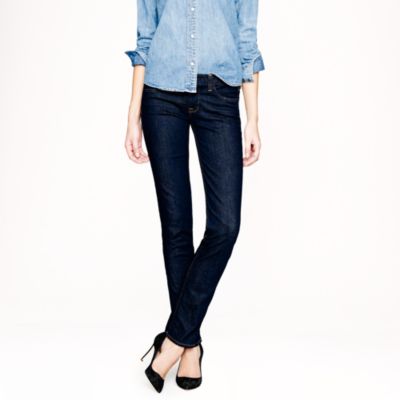 photo credit: J. Crew 

I was in J. Crew, looking to spend a gift card I had been holding on to forever (am I the only one who does that?), when a saleswoman suggested I try on these jeans. And while they cost more than I would normally spend (the gift card definitely helped), they are SO versatile that I pull them out easily three to four times a week.
Love the high cuff and sneakers – makes me feel very Audrey (sneakers: Bensimon)
The leg cut also works well with a tight roll for that slouchy "boyfriend" look (shoes: J. Crew, similar here)
Dressed up with heels (shoes: J. Crew, similar here and here)
The waist is low enough to be fashionable (I will NOT wear mom jeans, I will NOT wear mom jeans), but high enough to be comfortable (and in my opinion, way more flattering to most). The higher waist also means I have the option to wear a tucked-in shirt or blouse, and even a belt (try that with skinny jeans!). And they have that magic ingredient – spandex – that is every girl's best friend.
Look ma, my shirt's tucked in! (shirt: Madewell/belt: Gap, similar here)
I recommend the dark wash for maximum versatility, as they look a little dressier than a faded rinse.
How about you – is there an item that you get frustrated shopping for (other than bathing suits, obviously…)?
And finally – can someone PLEASE explain jeggings?